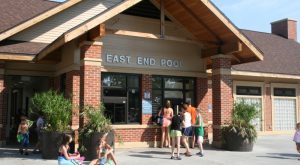 (My summer retreat, East End Pool in Elmhurst)
Another summer of swimming at the Elmhurst Park District pools has come to a close. For the past two seasons I've enjoyed the late morning adult swim at East End Pool daily. This year, I got to better know more of the 'regulars' and became one of them myself. Despite variances in our ages, there's a special camaraderie that bonds all of us together as we enjoy the refreshing water and warmth of the summer sun.
I've been inspired by Barb, a retired nurse who eagerly took time out of her swimming to assist a fellow swimmer in helping her elderly mother walk in the shallow end which has done wonders for that mother's physical health.   Then there's Miriam, who in her mid-nineties still drives to the pool and is open to discuss anything which includes interesting stories from her life.  Many of us talked about our goings on, music, sports and where to find good places to eat. These folks are my summer family and they're a  pleasure to swim and socialize with.
There were also semi-regulars who came to East End. One woman tried to fix me up with a girlfriend of hers who wasn't at the pool but I was shown photos on a phone.  A kind gesture but not having the best of luck on blind date fix-ups, I took a pass.  There was a young woman or two who swam at the pool a couple of times that I was interested in. However, I didn't want to even attempt to turn my chlorine oasis into some sort of a half-assed pick-up joint.   The pool has become kind of sacred ground and water to me.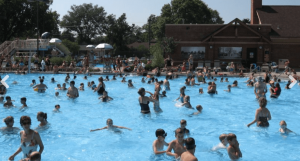 (The view from my usual deck chair)
A special thanks to the East End Pool staff for keeping the facility clean and safely monitored. Many out of town and first time visitors to East End have told me what a fantastic pool we have and how they envy us.  No argument there. Years from now when I retire, I want to become a lifeguard there.  (Instead of "Baywatch" they can call me "Gray-watch.")
So we now bid a fond but reluctant farewell to the summer season at East End.   The beach towels, flip flops and pool I.D passes are packed away and all of our tans will start to fade.  The summer fun is over.  Those of us who like me, teach, are back in the classroom for a new school year and the other swimmers will return to different routines.  I want to wish my fellow 'regulars' and all pool attendees the best of health during the coming fall and winter months. We won't see each other for awhile but take heart, a new swim season is only eight months away. We'll see you back in the water for the summer of 2019.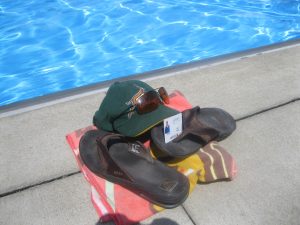 The beach towels, flip flops and pool I.D. passes are packed away for the year.