February 18th, 1995 United Center Chicago, Illinois
I grew up an Eagles fan.  My sister Marianne, who was four years older than me, listened to their music on her stereo and with her bedroom next to mine, I did too. When their debut album came out I was eleven and songs like "Take It Easy" and "Peaceful Easy Feeling" had that country sound I leaned toward.  My favorite singers as a kid were Hank Williams, Roger Miller and Charley Pride so I appreciated the country tinged flavor of the Eagles.  The Eagles' so called 'California sound' was an early soundtrack of my life. Marianne had a cassette of the "On the Border" album and she played it often on her 1973 Plymouth Duster tape player that was under the dash to compliment her factory installed AM radio. "James Dean", "Best of My Love" and "Already Gone" were big with me. I started buying my own Eagles records with "Hotel California" and "The Long Run."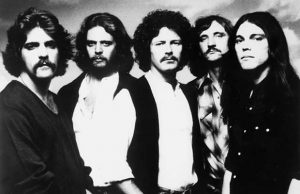 The Eagles line-up before they took a 14 year beak.
In 1980 when the Eagles broke up or as they would put it years later, 'just stopped working together', I felt that pang of regret for never having seen them in concert.  Not that they were known for wild flamboyant live performances, just the opposite in fact.  But I wanted to hear them in person.  It also was vexing because the group's members worked on solo projects that distanced themselves from their days as Eagles. Working in radio, I got to meet Glenn Frey twice and saw him play solo and also caught several of Don Henley's solo shows in1985 and 1990.   Both Frey and Henley would perform a few old Eagles songs in their sets which just made me want to see the whole band together that much more.  Then Hell Froze Over.
Don Henley often said the band would play together again when "Hell freezes over." Their first reuniting took place in 1993 on a video for Travis Tritt's version of "Take It Easy" for the "Common Thread" Eagles tribute album done by country artists.  After that video shoot, the late 1970's incarnation of the Eagles, Henley, Frey, Don Felder, Joe Walsh and Timothy B. Schmidt realized maybe they didn't hate each other so much anymore. Eagles manager and music mogul Irving Azoff had large dollar signs in his eyes as he was waiting for this day to happen and the Travis Tritt video was the start of a second act for the band.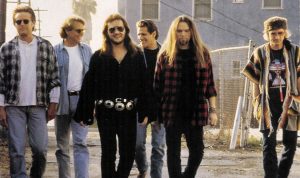 Travis Tritt's "Take It Easy" video was the catalyst for the Eagles to get back together as a band.
A live recording and a TV special with past hits along with some new tunes happened in the spring of 1994; that release and the tour to follow was appropriately titled "Hell Freezes Over."  This tour ran for the next two years and when a co-worker of mine had extra seats to sell for the Eagles' show in Chicago, I was all in.
My date that night was my good friend and frequent concert cohort Dana who was as much a fan of the Eagles as I was. It was a Saturday night and I was up for a long show of well played songs.  I wasn't disappointed.  Our mezzanine or one hundred level seats were about twenty rows from the stage but we had a clear view of all that was to happen.  The set looked like a post apocalyptic mess with metal props, pipes, wreckage and structures that made it seem as if the band was playing in front of the ruins of a factory.
The house lights go out, the five Eagles take the stage and opened the first set with their signature song, "Hotel California."  I mean who kicks off a concert with THE song that totally defines the band?  Henley, Frey, Felder, Walsh and Schmidt do, that's who! To me it was like if Springsteen opened his show with "Born to Run", which maybe he has done but probably not often. Being this bold the Eagles were telling us, 'Yeah, here's your big hit but we've got plenty more to bring you.' Don Henley was perched at his drum kit for this show opener but for most of the night he would be at the front of the stage with the rest of the group playing rhythm guitar. Speaking of guitars, Don Felder's 12 string and Joe Walsh's six string guitar tandem/duel on "Hotel California" was one of those jangling assaults that was best to see and hear in person.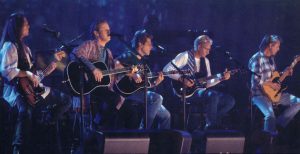 The Hell Freezes Over TV special and album came first, then the major band tour.
The five Eagles were backed up by additional players including an extra drummer, keyboardist and a small horn section.  That first set brought out faithful versions of songs like "Victim of Love", "New Kid in Town", "Wasted Time" and "Lyin' Eyes."  Timothy B. Schmidt did his falsetto tinge to "I Can't Tell You Why."
As much as the whole group was well received, the show stealing crowd pleaser was the now clean and sober and always affable Joe Walsh. He sang "Pretty Maids in a Row" from "Hotel California" and later donned a huge hat made up of folded balloons when he performed "Ordinary Average Guy."  Walsh was a re-born person and onstage player but still the joker and a great visual and audio treat. I maintain since getting clean Joe has played and keeps playing the best guitar of his life, and for one as gifted as he, that's saying something. The first set closed with one of my very favorites, "One of These Nights" which was followed by a twenty minute break.
The second set opened with Frey crooning "Tequila Sunrise" and there was room and time for solo hits from him, Walsh and Henley.  Glenn would use the backing horn players for an elongated version of "You Belong to the City", Walsh rocked out "Funk 49" and Henley led them through "The Heart of the Matter" (another personal favorite of mine) and "The Boys of Summer."
The Eagles weren't much for onstage banter but the low key Don Henley got one of the biggest crowd reactions of the night when they launched into "Dirty Laundry."  You see the O.J. Simpson trial had been running five days a week for the last six weeks on CNN and it's all that you saw or heard anyone talk about seven days a week.  So as the lurching tribal drum beat and ominous organ notes of "Dirty Laundry" kicked up, Henley approached his microphone and asked the crowd, "Are you sick of this trial yet?"  All twenty thousand plus in the house screamed their approval with a resounding "Yeahhhh!"  Here's the best part of that quick exchange.  This was February 18th, 1995, the O.J. Simpson trial would go on for almost eight more months.
The horn section earned more of their pay as the Eagles rounded out set number two with "Heartache Tonight" and a rowdy "Life in the Fast Lane."  Encore songs included the newly written "Get Over It", Walsh's "Rocky Mountain Way", Don Felder's country rocking guitar busted hard on "Already Gone" and Henley did a spot on read of "Desperado."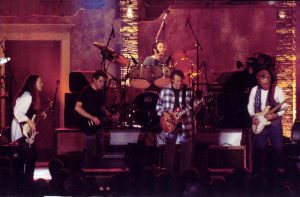 The Eagles in action playing their long list of hits.
For the last song of the night, they played "Take It Easy", the song as Frey would often say, 'Started it all.'  With the last "Ooh woos" wrapping up that familiar hit, the band took their final bows and were done.  I finally saw the Eagles play live together as a group and it was a fantastic show.
As I noted earlier, these guys didn't go for gimmicky laser lights, stage effects or flamboyant anything. This show was about something Frey and Henley said the band aimed for; "Song power."  Song power is what it was that night, simply full of music from my youth and twenty thousand other fans.  These songs were played like we remembered them, the singer's voices still sounding strong and resolute.  Glenn Frey was once quoted as saying "Perfection is not an accident."  Looking back all these years later on that night, I get what he was saying.
-Glenn Frey Postscript-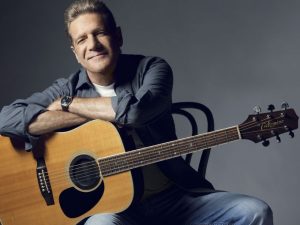 Glenn Lewis Frey died on January 18th, 2016 at the way too young age of 67.  He succumbed to a long history of intestinal issues compounded by rheumatoid arthritis and pneumonia.  During my years in radio I met many famous people who have since died but Glenn's passing was a rough one to take.  We met twice and he was more than kind to me and others with me.   He was just as normal as you or I.  The only difference being Glenn Frey and the music of the Eagles was a big fabric of my growing up years and beyond.  Thanks again for all of that and more to Glenn and the rest of the band.