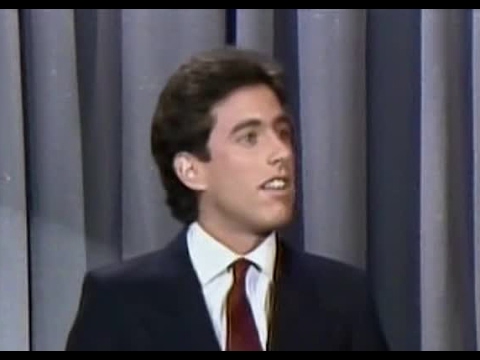 Jerry Seinfeld turns 65 this week and I thought it a good time to share some of my personal experiences with the famed comedian. This excerpt is from my coming media memoir "Raised on the Radio". The time was 1987 and I was producing the Larry Lujack afternoon show at AM 890 WLS. Larry liked comics who were clever and insightful and was happy to welcome Seinfeld to his show.
Book Excerpt-
Jerry Seinfeld was and still is one of my very favorite comedians. We had him in the studio and while at the time being known for his successful stand-up visits to "The Tonight Show" and "Late Night with David Letterman", this was before his sitcom happened and became one of the most successful shows in network TV history. For the record, I was an early fan of "The Seinfeld Chronicles" which debuted in 1989 then became "Seinfeld."
Here's an understatement: Comedians are a quirky bunch. Insecure, sometimes extra loud then quiet, often guarded, you name it. Many are messed up head cases that blow out their angst on the comedy stage. In all my years in radio the two most normal acting comics I met were Jerry Seinfeld and Jeff Foxworthy. Nobody else even came close.
While some jokesters hold back, trying to save funny material for their concerts, Seinfeld was all up for sharing his wit freely on the air. He wondered why there were referees in pro wrestling when these brutes can hit each other with chairs and such. "O.K., says the ref, you can bring that tank in the ring but watch it." Seinfeld also yakked about going scuba diving where your only goal is to not die. For some reason Jerry was equipped with an underwater wallet "In case you run into a sea turtle that can break a fifty dollar bill." When I recorded Seinfeld's post-show promo, he accidentally-on purpose referred to Larry Lujack as "Larry Lube Job" then corrected himself saying Larry was the "afternoon grease" on WLS.
What impressed me about Jerry Seinfeld was his self awareness. This guy was so locked in on what he was doing. He has often been called a sharply tuned wordsmith and it's true. Everything in his stand-up act is precise, no mistakes. I always pegged the guy for large scale greatness and Seinfeld's long career proved my initial assessment correct.
After moving on from WLS, I also booked Seinfeld on other radio shows I produced and he was always a money-in-the-bank guest. For each guest shot Jerry did, he'd have fresh new observations and comments, all of them comedy gold works. I also saw him perform his full stand-up comedy concert act several times and again each show was a great night of laughs.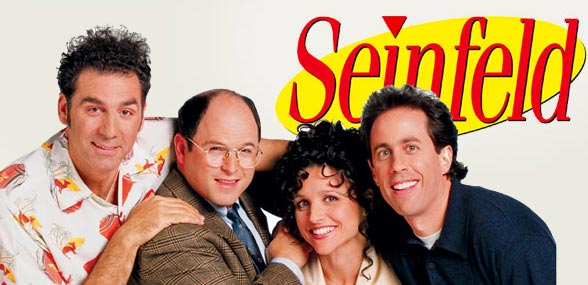 Getting back to the "Seinfeld" sitcom, some of you may have heard about earlier this year when millennials were whining about how wrong on un-PC some of that show's plots were.  They cited things like the mocking of a pig nosed mental patient or when George Costanza was busted for staring at the cleavage of a network TV executive's teenage daughter.  There was even fretting about calling the snippy soup chef 'The Soup Nazi.'  Really? Are we that fragile now?
I have two answers for the overly sensitive young-ins.
Answer number 1. On almost every Seinfeld episode, when Jerry or any of his pals committed a touchy misdeed, they almost always suffered a consequence. When George Costanza parked his dad's car in a handicapped parking space, an angry mob trashed the car to bits. When George got busted for boob peeping he and Jerry lost their sitcom bid with NBC. Even on the series ending episode when the Seinfeld crew laughed at a fat man being mugged, they ended up getting jailed for not helping the guy out. So for every un-PC action the show's characters did, there was an equal and justified reaction.
Answer number 2 to these delicate wispy millennials can be summed up in three words: GROW A PAIR!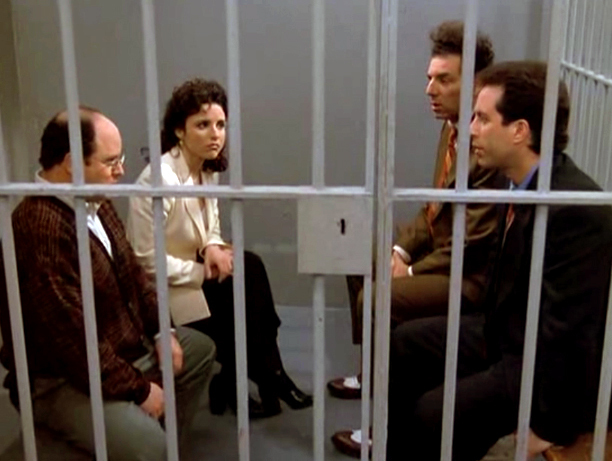 These days Seinfeld still does the stand-up comedy concerts (I don't ever see him retiring from that) and his "Comedians in Cars Getting Coffee" continues to be an entertaining and insightful ride with fellow comics. I really enjoy seeing when a fellow jokester makes Jerry laugh heartily, just to see what kind of lines get him rolling.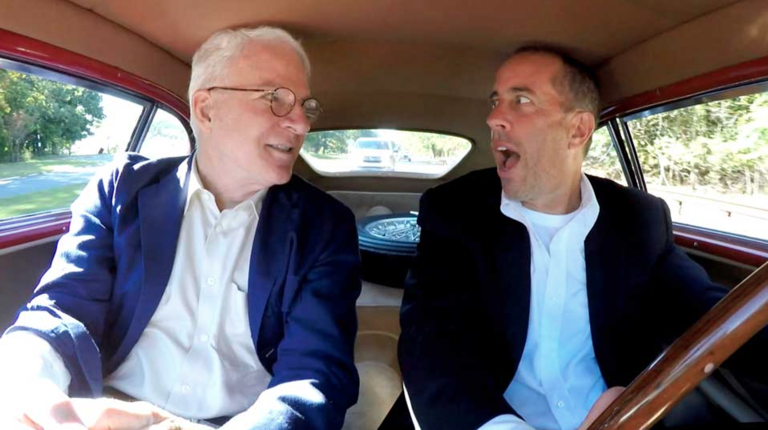 So happy birthday to the ultimate wordsmith Jerry Seinfeld and here's to more years of quirky yet on target observations from you and laughs for us.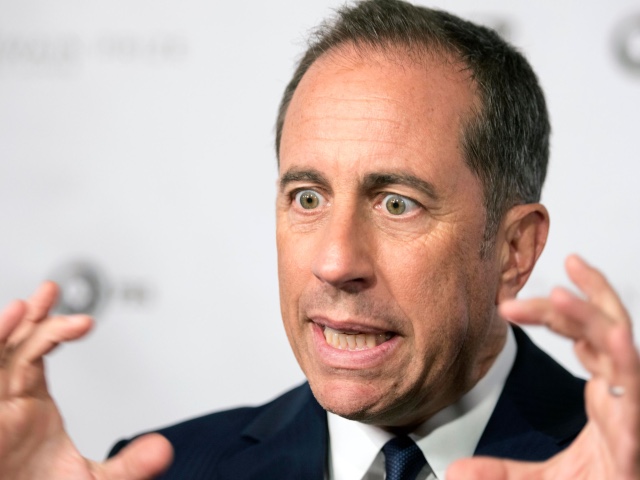 NEXT WEEK- You Might Be A Lousy Mother If:____________.