In June of 1979 I graduated from York High School. While most of my friends left Elmhurst to attend downstate or out of state colleges, I stayed home and went to the College of DuPage in Glen Ellyn. When my pals came back for their first Thanksgiving and Christmas breaks I was hearing stories about this great band they saw in their college town bars; a quartet called Kool Ray and the Polaroidz. A name like that makes you think they were a punk or new wave band but these guys played pop and rock hits from the 50's, 1960's and early 70's. Kool Ray covered Chuck Berry, Elvis, the many bands from the British Invasion era, The Doors, Motown and other familiar oldies.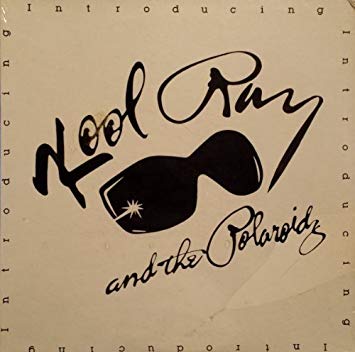 Students loved to dance to this band whose members weren't much older than their many fans. They rocked bars, clubs, outdoor festivals and frat and sorority houses. Kool Ray was becoming well known throughout Illinois, Iowa, Indiana and Wisconsin. I was hoping they'd travel to the Chicago area so I too could see them but they were doing just fine touring Illinois college towns like Charleston, Champaign-Urbana, Bloomington Normal and other locales.
Fast forward to January of 1981 when I transferred from College of Du Page to Southern Illinois University in Carbondale to study communications. After the first week of classes, I saw that Kool Ray and the Polaroidz was playing that Friday and Saturday night at T.J. McFly's, a popular bar on Carbondale's main strip. Friends from my dorm and I went out that first night to see the band and it was a wild and fun time! Not only did this group play many of my favorite songs of all time, they played them so damn well.
Kool Ray blasted through The Who's "Can't Explain",the Beatles' "Ticket to Ride", the Stones' "Jumping Jack Flash" and Marvin Gaye's "Heard it Through the Grapevine" to name a few. I still remember them doing the Kinks' "You Really Got Me" and in the middle of the song, during an extended bass line jam, they infused the Beatles' "Norwegian Wood" by singing, "I once had a girl, or should I say, she once had me." These four musicians had it going on.
During that semester at S.I.U. Kool Ray and the Polaroidz returned to T.J. Mc Fly's for two night stands (Fridays & Saturdays) about once a month. I caught them several more times and even got educated on songs I wasn't familiar with. They did Marvin Gaye's soul-pop romp "I'll Be Doggone" which I never knew before. The same went for Robert Palmer's "You're Gonna Get What's Coming" which to this day is in the top ten of my favorite rock songs. Their cover of Elvis' "Little Sister" was another money in the bank play. Kool Ray released an album of cover songs which included an aces run through Roy Orbison's "Oh Pretty Woman" among other songs.
As I mentioned, this band wasn't just a group of hacks, they were very capable musicians, young and full of true rock roots credibility. In 1981, the disco era was on its last legs and while punk or new wave music was making inroads, college students like me appreciated seeing and hearing the best music of the 50's thru 70's played back to them live. Dance floors were always packed and Kool Ray's players were stars in a small but intense galaxy.
I only lasted at S.I.U. that one semester as too much partying and not enough studying knocked me back home to Elmhurst where I found my academic niche at Elmhurst College . In time, I was able to score a vinyl single of original material from Kool Ray, it was a pop song called "Day In and Day Out." Another original was the Beatlesesque cut titled "I Heard You Fell", which sounded at least as good as the stuff I heard on top 40 radio. I often played these songs on my college radio shows at Elmhurst College's WRSE FM. One other Kool Ray original that I never found on vinyl but to this day I could sing the chorus of was "Diane." "Diane, you blow me away, you'll never change, you'll never stay, Diane you're the one for me!"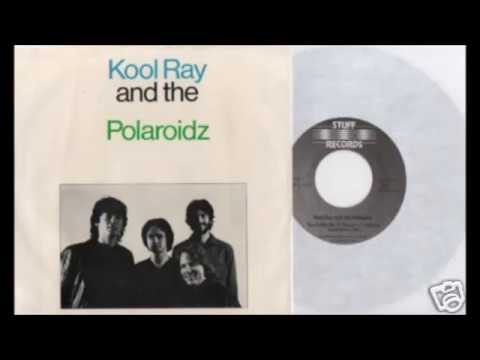 As time went on, the band made their way to play a club in the south suburbs of Chicago called "Ryan's" that was once a bowling alley. I saw them there and other places. In the summer of 1983, I made it a point to catch them play a bar on the north side of Chicago and met the group personally for the first time. Writing a weekly music column at the time for my hometown newspaper, I wanted to feature Kool Ray and the Polaroidz. Between sets I asked their road crew if I could have twenty minutes with my favorite unknown rockers and they were more than accommodating. Until that point I never even knew the names of any of the band members. There had been a couple of changes in personnel but the mainstays were guitarist Doug Johnson and bass player Dee Pearson. They did most of the singing and were the engines that drove Kool Ray and the Polaroidz.
Doug and Dee had an interesting way of explaining why they focused their shows on playing hit songs from the way back past. Doug said the band remained big fans of that era of classic rock/pop music. The band saw themselves as curators and preservationists who wanted to play songs that should never be forgotten. Sure they were paid for the gigs and paid well, but the passion and performing of that music came from somewhere deeper. These young men were sincere artists and a great show happened every time they were booked to play.
I last saw Kool Ray and the Polaroidz in the early winter of 1983 when they played a low key club on the northwest side of Chicago. It was a snowy cold night and this was one of the few times the band rocked in front of less than a full house of fans. That didn't matter to me, I still enjoyed their sets just like that first time down in Carbondale.
All these years later, I sometimes wonder whatever happened to this band that brought me so many hours of live music enjoyment.  Did the guys move on to so called 'real jobs'?  Did they pack away their Gibson and Rickenbacker 6 strings and 4 string Washburn basses?  Does anyone know? Kool Ray and the Polaroidz, I wonder where you are…