I teach Special Education to 6th, 7th and 8th graders at a therapeutic school.  My students have a mix of behavioral and learning issues and they always keep me on my toes.  Twice a week I teach these kids a course called "The Arts."  Since music is part of this, I'm educating them on songs that tell little stories. Together they orally read lyrics to a couple of tunes from the past.  Next, I play them the songs and issue a short quiz.    These songs came out decades before these students were born so it's a course on music history too.  I'd be more than happy to play songs from their era but let's be honest, today's music is beyond awful!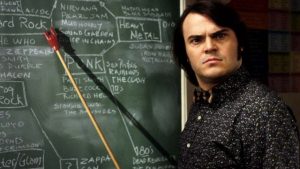 Anyway, here are a few of the song quizzes.
BRANDY, YOU'RE A FINE GIRL (Looking Glass)
Where does this song take place?
In Chicago                 On a western bay               On the east coast
What job does Brandy have?
Teacher                    Nurse               Waitress at a bar
What does Brandy wear that reminds her of a past boyfriend?
A golden ring          Diamond ear rings            A braided chain
Where did this piece of jewelry come from?
Italy                       Spain                         France
Why couldn't Brandy's boyfriend stay to be with her?
He was married to someone else
As a sailor, no harbor was his home
Brandy was married to someone else
What stories did Brandy's man tell her?
How he used to be a baseball star
The guy shared about his life as a bank robber
He told sailing stories, talked about the oceans and more
SECRET AGENT MAN  (Johnny Rivers)
The man who lives a life of danger, what happened to his name?
He changed it for security reasons
They took it away from him
Nothing,.he's still known as Patrick Berg.
Why should the secret agent man beware of pretty faces?
It could be a man in disguise
A pretty face can hide an evil mind
All that make-up means she might be ugly as a bag of worms
Where do we find the secret agent man in the song?
Swinging on the Riviera
Laying in a Bombay Alley
Both of these
What got the secret agent man in trouble?
He ended up spying on the Russians
He let the wrong words slip by kissing persuasive lips
Isis terrorists blew up his car
The odds said the secret agent man:
Would live a long and happy life
Might marry a princess and live in a castle
Won't live to see tomorrow
LAST KISS (Wayne Cochran, also J. Frank Wilson, Wednesday, and Pearl Jam)
Who took the singer's baby away from him?
Another guy
Her parents
The lord
Who was driving during their date?
The singer             The girl            They took an Uber
What happened on their car ride?
They hit a deer
They swerved into a stalled out car
Nothing
What were the last words the girl said to the singer?
You're a lousy driver
Are you O.K. honey?
Hold me darling for a little while
What was the last thing the singer and his girl did?
Share an ambulance to the ER
Hugged
Kissed
What does the singer have to do to see his baby when he leaves this world?
Never date another girl
Be good so he can go to heaven
Learn how to drive better
SUNDOWN (Gordon Lightfoot)
The song starts out with the woman wearing:
Pajamas
Shorts and a T-shirt
A satin gown
Where is Sundown told not to be?
Any bar in town
The singer's back stairs
A local school
Why is the Sundown a queen in sailor's dream?
Because she loves to sail boats
She don't always say what she really means
Nobody knows
What is such a shame in the song?
Losing 'Sundown' to another man
Not ever having met the woman
When the singer gets feeling better when I'm feeling no paid
What's your first mistake with Sundown?
Getting lost in her lovin'
Breaking up with her
Letting her steal your car
What is Sundown wearing at the end of the song?
Her satin dress
Faded jeans
A new swimsuit
CLASS DISMISSED!