July 29,  1976 @ The Chicago Stadium
You never forget your first ever concert and that is certainly true for me.  I was a fan of Elton John's music since 1973.  Hit songs like "Daniel", "Crocodile Rock", "Bennie and the Jets", "Saturday Night's Alright for Fighting" and the title track of the magnificent double album "Goodbye Yellow Brick Road" were all over the radio and I loved them all.
I really got hooked into Elton in Junior High when I saw a TV special called "Elton John and Bernie Taupin Say Goodbye to Norma Jean and Other Things."  It was a documentary or "rockumentary" if you will, that told  much of the story of Elton the singer and his lyricist Bernie Taupin up to that point.  I learned lots from this show and bought Elton's earlier albums to catch myself up on all of his music.
In 1976 nobody was bigger in pop/rock music than Elton John
Anything and everything I could read or know about Elton John was my away from school focus.  I was in the eighth grade school chorus and convinced our music teacher to let me sing "Pinball Wizard" during the spring concert.  She did and it went over pretty well.  Elton covered that Who classic for the movie "Tommy" in which he played the Pinball Wizard character.  Even Time Magazine did a cover story on the piano pounding rocker titled "Rock's Captain Fantastic" which helped promote his semi-autobiographical album "Captain Fantastic and the Brown Dirt Cowboy."
Fast forward to the spring of my freshman year in high school when a series of Elton John concerts at the Chicago Stadium was announced for late July of 1976.  My sister Marianne, also an Elton fan, took me and friends to stand on line at Ticketron to gets tickets for what was to be his final Chicago show set for July 29th.  We ended up with good seats and to show you how long ago this was, our tickets were around ten dollars, service charge included!
The night of the concert, I was out of my head with anticipation. While we all counted down to the day of the show to see our favorite rocker, the balding guy with the wacky specs was also on the minds of millions of fans.  In the summer of '76, Elton John was at the peak of his popularity and THE live act to see.  He sold out all four of his Chicago Stadium shows and was even offered the chance to play more but he had other towns and dates to do.  This tour was called "Louder Than Concorde, But Not Quite As Pretty" and before the show I dutifully bought a couple of Elton T-shirts and a tour program.  Our seats were in the 2nd row of the mezzanine directly across the short side of the stadium to Elton as he faced us.
After a forgettable opening act of some long haired guy with an acoustic guitar and songs nobody ever heard before, it was time for E.J.  The Chicago Stadium lights went out all at once and the 20,000 fans started screaming with excitement.  The band played "Grow Some Funk of Your Own", a cut from the "Rock of the Westies" album and Elton came out to bigger roars sporting large plastic white framed glasses like the kind you'd wear to watch a 3D movie.  He had red high top gym shoes, navy blue track pants and an emerald green glittery jacket over a striped polo shirt and a giant silver banana dangling from a necklace.  Fill in your own Freudian interpretation on Elton's banana.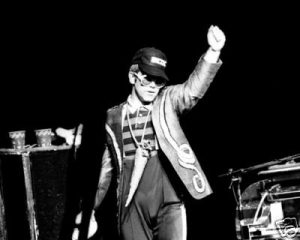 Shiny jackets and dangling phallic symbols were part of Elton's wardrobe during that 1976 tour.
I had never been in the same building as such a big star in my life. Here was my favorite rocker singing to us!  It was a little unnerving and I didn't really grasp everything until song two of the show which was "Goodbye Yellow Brick Road." He sang popular hit singles and delved into cuts from "Captain Fantastic and the Brown Dirt Cowboy" which we fanatics knew backwards and forwards.
The summer song of 1976, in fact the biggest radio song of the whole year, was "Don't Go Breakin' My Heart", a duet between Elton John and Kiki Dee.  Kiki was on this tour with Elton and came out midway through the show to sing that current single and "I Got The Music in Me" which was her hit a couple years earlier.  At the time I remember thinking Elton and Kiki looked and sounded so good together that maybe they'd end up marrying.  (I had plenty to learn about lots of things at the time)
So the night played on, hits like "Island Girl", his cover of "Lucy in the Sky with Diamonds" and "Philadelphia Freedom" rang out and then it was time for Elton's encores.  In the darkness of the cavernous Chicago Stadium thousands of fans lit matches and lighters which illuminated the whole place.  Remember, this was decades before cell-phones with lit screens.  Elton came out with a change in his jacket, now sporting an Uncle Sam styled red white and blue glitter get up and he and the band rocked out "Saturday Night's Alright for Fighting."  The best part of the night for me was when he howled "Saturday night's alright, alright, allll-right." The next part of the song is singing the "Woo ooh oohs" and the stadium crowd covered that part.  This chorus singing by over 20,000 fans gave me a shockwave of chills that I still remember to this day!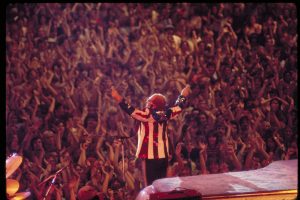 Elton rocking his fans in a spirit of '76 sport coat. 
After blowing the roof off the place with that rocker, Elton came back for his next encore, this time in a bright pink glittery jacket as he quieted the crowd with the classic "Your Song" which then was followed by the night's last song, "Pinball Wizard".  Elton and his band turned that hit into an even more frantic and wild rave-up than their recorded version.  We were all screaming the words and going nuts and as the band wrapped up the instrumental close of it, Elton John waved goodbye to the crowd, walked off the stage and was gone.  About a minute later, while still screaming and cheering in the dark, the house lights went up and the show was over.
I count myself lucky to have seen so many incredible concerts in my life and for Elton John's 1976 hits filled marathon blow-out to be my first, was even better.  In the following years I couldn't help but hold that first show as the gold standard for other concerts I saw.  That might not be fair but when you have such a memorable event to recall as your virgin concert happening, it seems natural.  Over time I've seen Elton John live many times but my fondest and most dear memory was from that mid-summer night in Chicago.  Thanks Elton, you're a once in a lifetime star and you brought me a once in a lifetime experience.
What a first ever concert experience for me to have!
POST-SCRIPT– I originally wrote this rock n roll memory back in 2013.  In November of 2014 my sister Marianne who took me and my friends to our first ever rock concert, passed away after a long battle with an auto-immune disease.  When delivering her eulogy I recalled all the fun we had together in our lives with a special accent to the Elton John concerts we two shared.  I closed off Marianne's memorial service by playing Elton John's "Your Song."  My dear Marianne is missed to this day but whenever I hear an Elton song or hear talk about him, I smile and remember those wonderful times with my sister.