"When I listen to my records they take me back to certain points in my life!"  (Daniel Stern as Shrevie in "Diner.")
There are songs that time travel us to specific events in our past.  Some music recall I have can even  be traced to a specific date and that's where the Pointer Sisters' top 40 hit "Fire" ends up.  I first heard that song on January 1st, 1979.  This memory is vivid because it happened to be the first time I ever had naked women dancing in front of me in person.
Four buddies and I were on vacation together in Ft. Lauderdale Florida for Christmas break during our senior year in high school.  All of us were seventeen and spent a beer soaked New Year's Eve in the Ocean Mist Lounge making out with countless women. Things got crazier once we went on the main street of Ft. Lauderdale and had encounters with countless party girls in an all night parade of passing cars.
The next evening was New Year's night and we decided to move our carnal quests a step further by scanning the yellow pages for some live nude women action.  Around eight that night all five of us piled into a cab and were off to nearby Pompano Beach to visit the Monk Lounge strip club.  I don't know about the other guys but this was my first time in a nudie bar.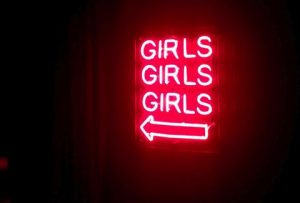 My first visit to a strip club was to the now defunct Monk Lounge in Pompano Beach Florida.
The Monk Lounge was a fairly rundown joint with bullet holes in the front door that according to the doorman, were put there the night before by some unknown assailant.  The strippers inside appeared to be in their mid-thirties. On a 1 to 10 scale with 10 being the hottest, these ladies averaged to about a 6. The place was filled with young horn-dog idiots like us and some older gentlemen as well.  We took a couple of tables near the front of the stage, ordered beers and watched a slew of women strip down to their birthday suits and shake their money makers looking for dollar bills to be slid into their leg garters.
When offstage, the strippers would make stops at customers' tables for more personal visits. They didn't do lap dances but we were within inches of naked breasts, butts and bajingos.  This kind of up close dancing would garner a tip of a dollar or two and for guys like us with limited sexual experience, the money was well spent.  Some of the friendlier girls would give you a kiss to boot.  Each of us probably dropped forty or fifty dollars in tips that night.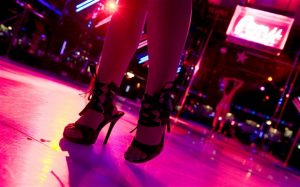 Tipping the naked ladies was encouraged and appreciated.
So here's where we get to the song "Fire." As I noted, this was not the classiest of strip clubs. There was no live band or professional D.J. with a state of the art sound system to provide music for the women to strip to.  Instead, at the side of the stage there was a jukebox rigged to play songs without putting coins in it.  Each dancer would scan the selections and punch up a few buttons to play the three tunes they needed for their set.  The one song that every dancer favored was, you guessed it, "Fire" by the Pointer Sisters. I never heard the song before that night and the lyric I specifically remembered is when in the middle of it they sing "Romeo and Juliet, Samson and Delilah…"
My four pals and I stayed at the Monk Lounge for a couple of hours that night and we heard "Fire" played at least a dozen times.  There were other tunes the girls danced to but this song was the mainstay.  It's easy to see why I have such an ingrained brain burn for "Fire", it was played so often that it registered in my ears as I saw long legged nude women bumping and grinding to the melody.
Songs from the past can inspire varying memories and anytime I hear the Pointer Sisters' version of "Fire", it only takes me back to the very first time I saw live nude women dancing for me.  It was a rite of passage. And to this day, as the opening chords of that song are played anywhere or anytime, a sly smile comes to my face, and I can feel my wallet getting a few dollar bills lighter.