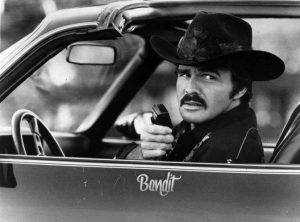 "…Even Burt Reynolds in his black Trans Am, all gonna meet down at the Cadillac Ranch."  (Bruce Springsteen)
I was sorry to hear about the passing of Burt Reynolds at age 82 after suffering a heart attack. The guy was a major movie star for many years and to those of us who grew up in the 60's and 70's,  Mr. Reynolds represented what a real man was all about.  Burt was athletic but not roided up, tough, smart, cocky and of course he usually got the girl.
I was eleven years old when my father took me to see "Deliverance" which was a pretty heady film for a young kid to see. My folks always helped me keep what I saw in those movies in the proper perspective.
Back then "Deliverance" was an edge of the seat film and it still holds up today as a timeless thriller. Watching it to this day I still feel the same rush of those runs through the river rapids and the battle against those sadistic mountain men.  My dad used to say that movie was one of the best and worst he ever saw; Best for its intensity and worst because of the "Squeal like a pig" sodomy scene with Ned Beatty.
Even a more subtle scene like when Burt's character Lewis is negotiating a price for locals to transport cars to their landing spot resonates. The local guy says he wants fifty bucks and Burt says "Fifty my ass", then repeats it when the local dares him to say those words again.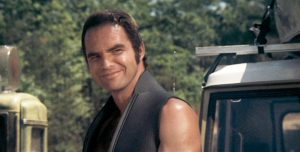 Burt Reynolds in his most iconic role in 'Deliverance.' "Fifty my ass…I said fifty my ass!"
Reynolds got to relive his real life college football glory days with his portrayal of disgraced NFL Quarterback turned prison gridiron star Paul Crewe in "The Longest Yard." I remember being stunned at how mean Eddie Albert (Oliver Douglas from "Green Acres" for God's sake!) could be as the warden and how a movie could have such great action plus be very comical.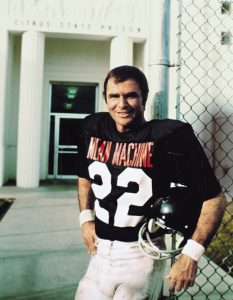 From "The Longest Yard", Burt as disgraced NFL QB turned prison yard star Paul Crewe.
Yes, the action adventure actor Burt Reynolds was damn funny. From the nude centerfold he posed for in Cosmopolitan magazine to his many appearances as a guest and guest host on the Tonight Show, Reynolds was always willing to laugh at himself. Not taking his own persona seriously made him even more endearing to his male and female fans.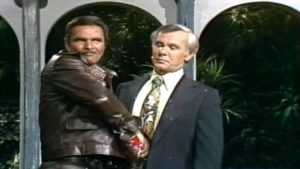 Reynolds blasting whipped cream down Johnny Carson's pants.
A couple years ago I enjoyed his autobiography "But Enough About Me." I mean just that title alone shows a world famous icon looking back at his life with bemusement and humor. Reynolds told some interesting stories in that book and owned up to his failings as much as his successes.
The Golden Globe won and the Oscar nomination Burt Reynolds got for "Boogie Nights" was well deserved. His showdown with porn making rival Floyd Gondolli who tries to convince Burt's Jack Horner character to move from film to video is a classic. I wish we had seen Reynolds in more features during his latter years.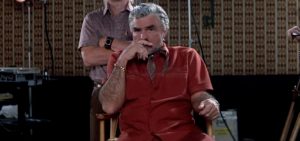 Playing 70's porn movie director Jack Horner in "Boogie Nights" earned Reynolds a Golden Globe trophy and a Best Supporting Actor Oscar nomination. 
A few years back Burt Reynolds did some meet and greet appearances at a local theater that was screening "Deliverance." I went for the film but spent a few minutes watching Burt sign autographs and do photos with fans for a fee.  Standing maybe twenty feet from the star I saw what a physical toll a life of doing one's own stunts and hard and fast living did on a body.  Burt Reynolds was now frail and barely there.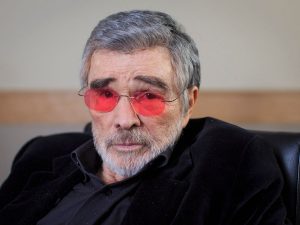 Burt Reynolds, just a couple years ago.  Sadly, a fading star.
So now Burt Reynolds goes the way of other macho movie icons like Steve McQueen, Lee Marvin, James Coburn and Robert Mitchum.  Clint Eastwood doesn't act anymore. Harrison Ford is a gray lion who we worry will crash his self-piloted plane while leaving the left blinker blinking. Arnold Schwarzenegger and Sylvester Stallone are way past their prime. It seems today's action actors are nothing more than flexed up goons with ten hour a day work-out infused muscles, oiled abs and tattoos. (Yeah, Dwayne the Rock Johnson and John Cena, I'm talking about you.)  The era of the "real man" actor with true character and charisma is over.
Thanks Burt Reynolds for all the entertaining you did for us in film, TV and real life. You were one of the last of the 'real man' movie star breed. And on your trip to the great beyond, may your drive in that Black Trans Am or the canoe ride on the river be a smooth one.  Just beware of Smokey the Trooper. And also scary toothless mountain men.