THE FOLLOWING IS AN EXCERPT FROM MY MEMOIR "RAISED ON THE RADIO" WHICH I LOOK TO RELEASE IN 2018. 
In the spring of 1983 I met Jim Turano who was wrapping up his freshman year at Elmhurst College and had a Sunday night show host on WRSE. Jim, like me, was a media nut who set his sights on a radio career. One night I heard him play an old dance song called "The Hucklebuck." Being a 'Honeymooners' freak, I knew that song was featured on the old show so I called Jim to talk about that moldy oldie. Soon we discovered we had matching tastes in lots of things. We were both fervent fans of Elton John, Bruce Springsteen, "The Honeymooners" and had other similarities from TV show preferences to the fact that we each owned Beta VCRs, same brand and type.  Jim and I often joked we were twin sons from different mums.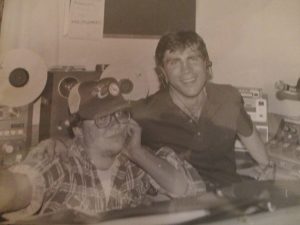 (L-R- Me and Jim Turano in the WRSE studios circa 1983)
I wanted to start a music newsletter that we could send to WRSE listeners. A once a month, double sided 4 page collection of music news, information on the radio station and other comments and articles that we would do ourselves. I invited Jim to be a part of this and soon enough the first edition of "Mick and Jim's Hucklebuck Update" was published. Since it was the "Hucklebuck" song that linked us in the first place, it made sense to call the newsletter by the same name. To start the subscription list we would solicit on the air for listeners to call in their names and addresses and set them up for the freebie news.
The "Hucklebuck Update" cost us nothing to print. We typed each issue in the college union workroom and learned how to lay-out pictures, cartoons and other parts of the newsletter from, you guessed it, my mentor Lee Swanson who also took Turano under his wing. Elmhurst College had a printing center for us and a bulk rate exemption so we didn't pay for postage. Copies of the newsletter were also sent to big time Chicago radio stars Larry Lujack, Steve Dahl & Garry Meier and WLUP's rising morning star Jonathan Brandmeier. I figured why not let the big dogs know what the young Turks are up to?
The newsletter was an instant hit. Our listeners liked getting mail from their favorite radio station and they got into the music updates, our little comments, pithy prose and everything else we put into each issue. I felt something big was bubbling with the Hucklebuck. Just what 'big' meant remained a mystery.
The button we mailed out to Hucklebuck subscribers, free of charge. This one is old and a little rusted.  (Like us)
When Elmhurst's 1983 Fourth of July parade was happening, my mentor Lee said he could get us in it. We painted some WRSE FM and Mick & Jim's Hucklebuck signs on butcher paper that were taped to my '73 Plymouth Duster. Jim and I sat on the closed trunk of the old heap as Lee drove. He maneuvered the car into the pre-parade line-up and told officials we were on the list just like the marching bands and Brownie troops and they absentmindedly waved us through. I realized Lee snuck us in when at the end of the parade the announcers at the reviewing stand had no idea who we were or why we were there. They announced all the other floats and parade participants but didn't know what to make of me and Jim! It reminded me of "Fast Times at Ridgemont High" when Spicoli stows away on the Biology class field trip to the local hospital. As the students are about to enter the hospital morgue, the teacher, Mr. Vargas stops Spicoli and asks him, "Are you in my class?" Spicoli answers, "I am today."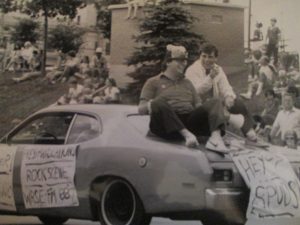 1983- Stowaways in Elmhurst's 4th of July Parade with Lee at the wheel. 
In late August of that year, my alma mater York High School, called WRSE to look for someone to DJ their first sock hop of the new school year called "Morp" which was Prom spelled backwards. I said I'd do it and pulled Jim into the deal. Asked how much we'd charge, I said we needed to rent the turntables, mixer and sound system from Elmhurst College and that would cost ten dollars. I didn't ask for a dime more because I was glad to get exposure in front of a couple hundred high school kids. In the two years before this MORP I DJ'd several Elmhurst College fraternity dances for a little pay and a lot of fun.
Long story short, the MORP dance at York drew over five hundred students who paid three bucks each to get in. Jim and I blew the roof off the room with three hours of oldies and current pop hits. It was a rowdy fun success because we got everybody up and dancing, singing and going nuts. At the end of the night we were paid what I asked for, ten dollars. The rest of the profits went to the York student council and we quickly learned a lesson on better pricing for live dances. Rave reviews of our D.J. dance debut at York got out and calls started coming from area schools who wanted us to play their hops. From 1983 through 1987 we played and got paid for D-J-ing everything from grade school sock hops to colleges, reunion dances, homecomings, proms, company events, birthday parties and weddings.   Jim and I were a big hit doing these dances because we turned every event into a Springsteen-like go nuts happening.  We've been friends ever since "The Hucklebuck" song got us together.
JIM TURANO POSTSCRIPT: Jim graduated from Elmhurst College in 1986 and worked for entertainment trade publications and PR agencies while dabbling in Chicago radio before eventually linking up with Chicago radio personality Garry Meier. This was after Garry split off from a long partnership with Steve Dahl followed by years with Roe Conn. Meier and Turano were together for on air partnerships at WCKG FM and lastly at WGN AM where Garry coined Jim's nickname as Elton Jim in honor of his dedication to the piano pounding pop star.
Jim's Elton John fandom (he's been to over 160 Elton concerts) in 2001 was  featured on a VH-1 show about super dedicated music fans. They taped interviews with people who knew him, including me. I gave statements like: "Jim will never leave his wife for another woman, But he MIGHT leave her for Elton John." I also noted "If Elton ever turns up missing, check Jim Turano's basement." The VH-1 producer ate these lines up. Jim was crushed. He said wanted to look like the "normal" Elton John fanatic, I told him, "That ship has sailed."
Next Week- One more tale on Jim Turano that involves the craziest thing I ever saw at a wedding.