THE FOLLOWING IS AN EXCERPT FROM MY MEMOIR "RAISED ON THE RADIO" WHICH I LOOK TO RELEASE IN 2018.
Besides thriving on the WRSE FM airwaves, meeting rock music business entrepreneur Lee Swanson in the spring of 1982 was a pivotal moment for me. Lee came to a local concert I was emceeing and we were introduced. He was thirty-one at the time and Elmhurst born & bred. Lee owned The Record Gallery record store in town as well as a local bar called The Rock Garden plus he managed a popular bar band called Risk. Often being a mentor to teens and college kids who had interests in music and media, it would take a math genius to total up his far reaches and contacts but Lee was the Chicago suburbs' answer to legendary concert promoter Bill Graham.
At the time when I met Lee he was mentoring Dave Ross, a former WRSE D.J. who was now interning at rock station WMET FM.  Dave and I would be linked up through Lee and became long term friends as well.
Lee Swanson was Yoda to my Luke Skywalker and a pre-Google era search engine. Got a question on how to make a local show happen or how to promote a radio station event the right way? Lee was the guy to call. Need to rent P.A. equipment for a concert or dance? Talk to Lee. He was a booster rocket who helped get others moving in the right direction much like Hamburg Germany was a catalyst for the Beatles and other British acts who were honing their skills. Those bands played long late hours six nights a week and either got better or went home. Lee helped all his protégés help themselves and he was also a great friend. When I first met Lee, he just completed treatments for thyroid cancer. It was a rough battle that included surgery and radiation. His physical strength was coming back and the good news was the cancer was in remission.
With the exception of his long red hair, Lee was always the guy in a crowd who would stand out in more subtle ways. When most Chicago rock music fans were sporting black WLUP FM "The Loop" T-shirts, Lee wore a white long sleeved T titled "The Poop" which mocked the iconic radio station. He would say while it's nice to be into what others liked, it's better to have something going on that's just a little different. He was generous and considerate. When a mutual friend won a really cool M TV baseball cap in a drawing, he offered it to Lee who told the guy, "Give it to Mick instead, because he's the one who wears hats and it'll mean more to him."
The best thing Lee taught me was to gather as much information and details about any situation you're involved in and to not go off half cocked until you knew what was what. That may sound like common sense but to a twenty one year old college kid like me this was vital insight and guidance. Lee Swanson showed me it was best to aim to be the smartest person in the room but you didn't always have to show that off. When explaining his view or ideas on something Lee would often say, "What you have to understand is…" And he would give some background and detail that helped frame the reasoning behind his thoughts. The guy was very smart and we were great loyal friends from the get go. Lee was someone I talked to on the phone or in person just about every day, he was my touchstone.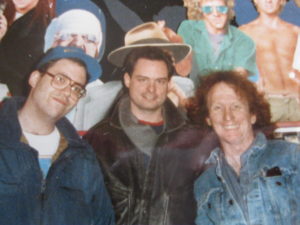 (L-R, Me, Dave Ross & Lee at Rolling Stones Records Store)
My media reach expanded in the fall of 1982. Rob Dicker, a high school friend and former yearbook photographer was working for the Elmhurst Press newspaper. He thought the paper needed a music column and pitched the idea to an editor. I was asked to submit a sample article and gave a review of The Who's new album "It's Hard" which ran in the next issue. The paper called to have me come down for photos that were taken for my byline on the column titled "Rock Scene" by Mick Kayler. I spelled my last name with a 'Y' so people wouldn't pronounce it Collar or Kohler. That drove my Grandpa Kahler nuts but he also understood my reasoning on the importance of name pronunciation. The column was to have an emphasis on local bands. "Rock Scene" ran in the Elmhurst, Villa Park and Lombard editions of the Press publications newspapers. It was a win-win-win all over the place. My pal Lee was a huge help when I needed to make local music contacts. The Rock Scene column was another stop on my media road.
I cannot emphasize enough what Lee Swanson's friendship and guidance meant to me. His mentorship was this inspiring and never failing catalyst for me. I knew no matter where my career and life took me, we would be very close friends forever.